It's an immense sense of pride and accomplishment we feel whenever our work is featured in coveted interior design magazines and newspapers. It is a testament to the hard work, dedication, and creative talent of our team, and helped to solidify our reputation as a leading force in the world of interior design. Seeing our designs showcased in such prestigious publications is a source of validation for our efforts and provided invaluable exposure to potential clients and partners, helping to expand our business and reach. Overall, being featured in these publications is a significant milestone for our firm and a well-deserved recognition of our excellence in the field of Interior Design.
In this exclusive brand connect interview with Forbes, leading interior designer and thought leader, Shruti Sodhi inspires upcoming designers with her thought-provoking journey. Speaking about her interests, Shruti Sodhi tells readers about her motivations and ideas behind her masterful creations. Highlighting her zeal for creating quintessential designs, Shruti Sodhi reflects how her dedication towards her craft has wowed clients and critics alike for over a decade.
Founder and Principal Designer of the best interior design firm in Delhi NCR, Shruti Sodhi shares a tête-à-tête with stellar Insperior publication, where she shares her interests and inspirations. In this candid interview, Shruti Sodhi talks about her fascinating journey and shares exclusive details of some of her most highly acclaimed projects.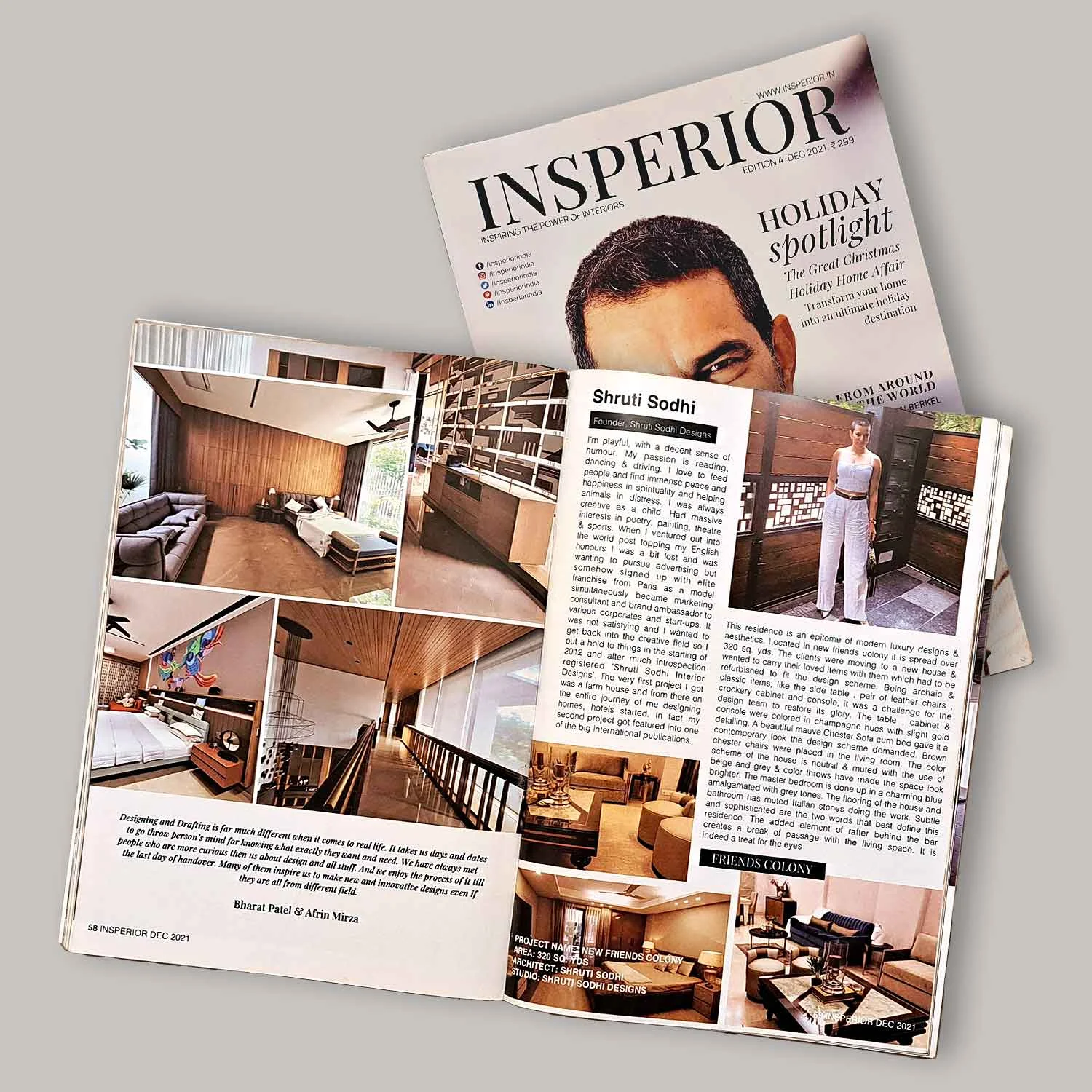 As a trendsetter in the luxury interior design space, Shruti Sodhi talks about her vision and brand story with HT City newspaper. In this candid tell all, the genius interior designer talks about her inimitable journey and outlines how the industry witnessed a paradigm shift in the wake of the global pandemic.
Morning Standard Newspaper
Talking to The Morning Standard newspaper, Shruti Sodhi featured in the Leisure section of the publication, wherein she shared inspiring details from her creative process. Shruti Sodhi also talks about creating consciously therapeutic living spaces that are designed to not only add personality to the décor, but also exude a serene bliss to the tenants.
For any additional questions we are here to help.