Shruti Sodhi Interior Designs
The Best Interior Design Firm in Delhi NCR
Shruti Sodhi Interior Designs is the leading interior design firm in Delhi NCR. A seamless blend of sophisticated elegance and innovative ingenuity, we have continued to set new benchmarks in the luxury interior and exterior design space since 2012. With unparalleled professionalism, our stellar portfolio of esteemed clients and patrons speaks for us.
Acclaimed as top interior decorators, Shruti Sodhi Interior Designs has carved a niche in the luxury residential interior design space. Our firm excels in creating pioneering designs that are a confluence of engineering expertise and creative artistry. In the hospitality sphere, Shruti Sodhi Interior Designs is awarded as the best hotel design service provider in Delhi. Through our avant-garde designs, we inimitable designs that exemplify luxury while architecturally optimizing space to create contemporary masterpieces.
The Shruti Sodhi Interior Designs team brings together the best design professionals who work tirelessly to provide you with timely deliveries that promise the highest quality service every time. It is no surprise then that we are listed amongst the top interior design companies across all rankings.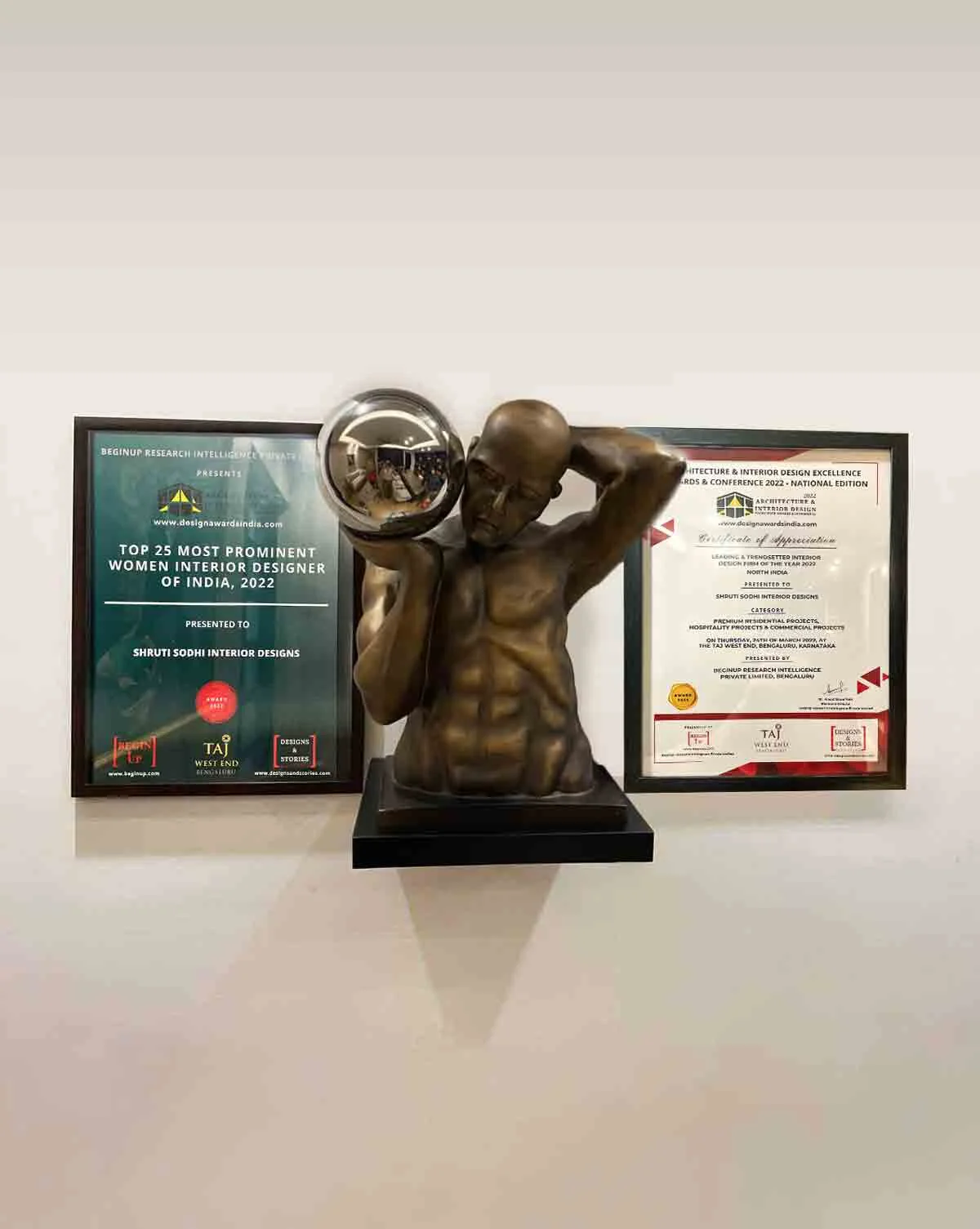 About SSID
Who We Are
Shruti Sodhi Interior Designs firm emerged as the top interior design firm Delhi NCR by winning the Leading Trendsetter Interior Design Firm of 2022 in the Premium Residential Projects, Hospitality Projects and Commercial Projects categories, as well as the ELDROK Indian Architecture Award 2022 for Excellence in Delivering Luxury Hospitality Designs.
An Awarded Interior Designer Firm
Shruti Sodhi Interior Designs is the most highly awarded interior design company in Delhi. Our celebrated multidisciplinary design firm believes in creating luxury interior design solutions through a highly customer-centric operational model. Conceptualized in 2012, our firm has pioneered some of the most iconic interior design spaces across Delhi NCR. In the past decade, Shruti Sodhi Interior Designs has been the industry's top interior firm, with specializations ranging from architectural designing to furniture manufacturing. Our illustrious projects include residential spaces, luxury hotel interior design and commercial landscaping.
Creating innovative, chic and pragmatic designs that have influenced and inspired the interior design industry for over 10 years, the Shruti Sodhi brand name stands tall as a force to be reckoned.
Shruti Sodhi Interior Designs specializes in providing high-end architectural, landscape as well as interior designing services for residential, hospitality and commercial spaces. Not only are we the premium home interior decorators in Delhi, but we are also the best hotel design service providers in the national capital as well. Our team of dedicated interior decorators and seasoned designers also excel in designing, manufacturing and procuring luxury furniture specimens.
Having established ourselves as the leading interior design consultants, we understand our clients and their requirements better than anyone else. Highly goal-oriented, our process of work involves understanding the clients' needs, lifestyle demands and functionality constraints.
As the most celebrated interior design firm in Delhi NCR, every project from our dedicated team is built on a steadfast commitment of the highest quality and a resolute assurance of time bound delivery.
Be it highly specific theme based luxury product designs or sophisticated intricate detailing, there's a reason why the Shruti Sodhi Interior Designs firms stands head and shoulders above our competitors as the best interior design company.
Staying true to our core principles, Shruti Sodhi Interior Designs is the best interior design family to help you embellish your residential, hospitality and commercial spaces. At the Shruti Sodhi Interior Designs firm, we help you create your own unique style. Adaptive to your every requirement, we help realize your vision into reality.
As the premier interior design firm in Delhi NCR, Shruti Sodhi Interior Designs is a firm driven by industry experts from the fields of Architecture, Interior Design, Turnkey Executions and Bespoke Luxury Furniture. Our dedicated team of designers, decorators and service providers bring with them international experience in creating masterful residential interior designs and luxury hotel interior spaces. Be it home or work, when it comes to creating comfortable living spaces, choose only the best interior designers. Choose Shruti Sodhi Interior Designs.
Thorough requirement analysis
Full-cycle solutions including planning, designing, furnishing, etc.
Result-oriented approach.
Adherence to industry trends.
Execution of latest trends as per the available space.
Active collaboration with the client.
Clarity at every step.
Optimum utilization of space.
Use of cutting-edge technologies.
Team of well-trained and certified professionals.
On-time delivery without compromising with quality.
Brands We Have Worked With
Career
We are always looking for new talent!