Top 5 Concrete Flooring Design Ideas Preferred by Best Interior Designers in Delhi NCR
Concrete flooring is not only one of the biggest design trends of 2021, it is equally sturdy and sleek for an aesthetically pleasing appeal. Some of the best interior designers in Delhi NCR are immensely fond of concrete flooring because of its minimal environmental effect. Concrete flooring is chic durable and has several perks. So, let's look at some of the advantages of having concrete flooring and the top interior design trends from popular concrete flooring design ideas!
Top Benefits of Concrete Flooring:
Concrete floors are quite easy to clean.
Concrete floors resist water after being properly sealed and they work beautifully with radiant heating.
Concrete floors are durable enough and last for a longer period.
Concrete floors lend an ethereal feel.
Their smooth surface and low-key lunar feel contribute to the open feel of the room so if you want to bring zen to any space, then concrete floors are your one-stop solution.
Concrete flooring is unbelievably versatile and if you're looking for the high gloss or extra sleekness, you can always add a visually interesting accent with concrete flooring to ramp up your interiors.
Top 5 Concrete Flooring Design Ideas
Given below is the list of the 5 most opted concrete flooring design ideas to jazz up your floors. All these concrete flooring ideas are popular among some of the best interior designers and decorators in Delhi as well as other parts of the world too. Select your preferred one which suits your home interior design and decoration.
Rustic is the new contemporary
As you see in the picture, the rustic concrete flooring options are the perfect conjecture where high-end modernism meets practicality. You can pick from elusive tinted palettes or acid-stain concrete floors to get a gorgeous finish. You can create the creamy, glossy espresso shade as in the picture or opt for a concrete floor in the shade of turquoise blue or moss green. The choice is yours!
Polished Concrete to bring your swanky side on
Polished concrete elicits a dense high-gloss finish which is ideal for people looking for a more posh place. The mirrored surface is a win-win for giving the room a more spacious ambience. When you couple the flooring with some ultra-modern undertones, as in the picture, you end up creating a lustrous effect and a retro feel.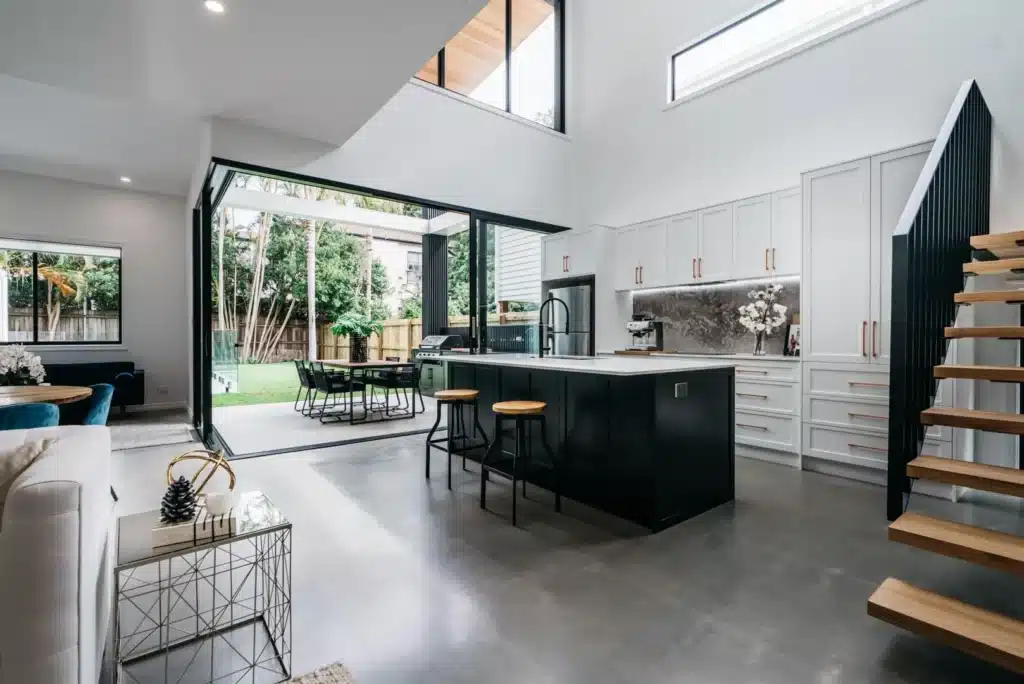 The matte grey for a sophisticated look
The grey concrete flooring gives your space a wow factor that you simply cannot resist. Use natural lighting as in the image, some suspended light fixtures, state-of-the-art appliances, and dab a paint of neutral tones on your walls to homogenize the overall look and create a masterpiece.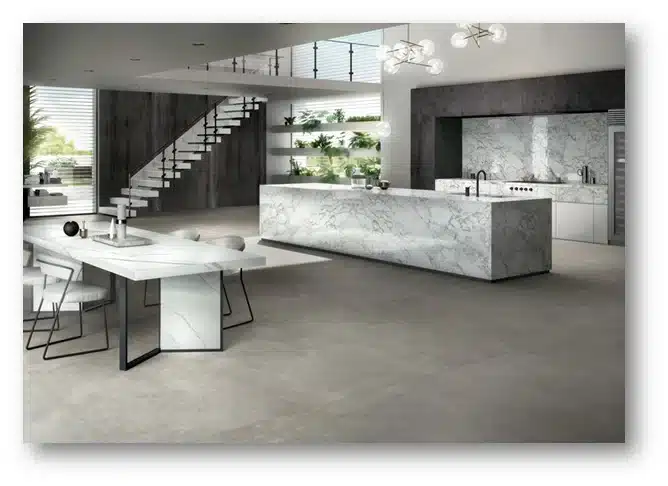 The neutral minimalist flooring
The design world is dynamic and keeping up with the evolving changes can be fun or frustrating depending on how successful you are with your efforts. Well, if you are looking for a clean canvas that you can always spruce up as per the changing decor trends then having a white minimal concrete flooring as in the picture can be a great idea!
Classy Black concrete flooring
If you want to enliven the space with something sophisticated, classy, and subtle, then this black matte finish for your concrete floor exemplifies an opulent space. The intense refined black flooring looks like a special effect that intrigues every soul while providing a cooling effect.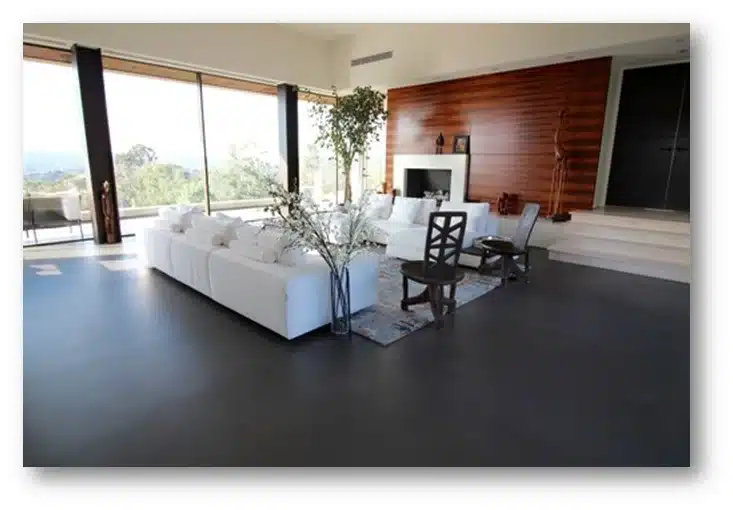 Conclusion
Gone are the days when DIY was the way to go for interior designing because now with the inception of the dynamic designer norms, everyone wants a home that looks stunning and is up-to-date according to the latest design standards. Choose your preferred contemporary door out of the 7 best contemporary door designs mentioned above. Make your doors the personification of your taste that keeps up with the latest trends in the decor world!