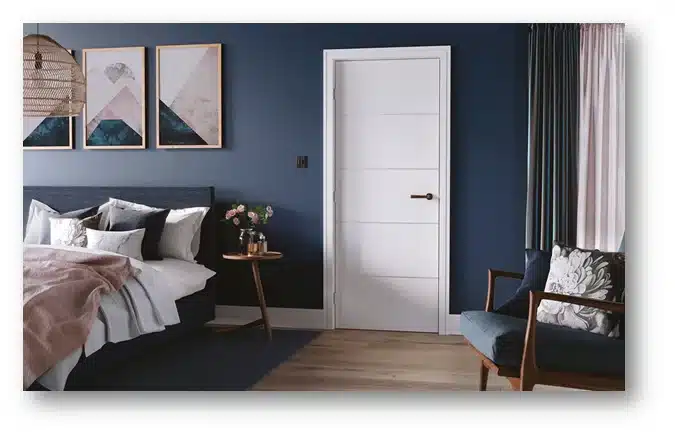 Top 7 Contemporary Door Designs to Impress Your Guests
A welcoming door is the face of every space. Doors are like the gateway of your persona that invites people into your well-decorated space. So, you must have a door that entices people with its enchanting appeal. Without a gorgeous door, your entryway will be mundane and uninteresting, because first impressions last long. Having said that given below is a list of 7 best contemporary door designs driven from the inventory of some of the best interior designers in Delhi. Find the best one which matches the exterior & interior look of your home from this list:
Pivot doors
If you are a fan of a spectacular, show-stopping entrance, then the pivot doors are your one-stop destination. With an unbelievably remarkable technique and an aesthetic appeal, pivot doors are the way to go for all those design enthusiasts who like a discrete element in their entryways. Pivot doors make quite a statement with their hinges attached at the top and bottom and their mammoth-like presence. The sleek, modern doors elicit minimalist architecture and especially with a matte black timber frame and glass surface (as in the image), the doors are a delight to have in your interiors.
Doors that reach from floor to ceiling
The best part about these doors is that they create the illusion of being larger than their actual size. So, if you are looking for something dramatic and ingenious then the floor-to-ceiling doors will serve the purpose. Especially, if you are designing doors that open to your backyards, as in the picture then the doors can look magnificent. Pair these contemporary door designs with some accent furniture and the natural light will eventually give your home a contemporary upgrade while saving your utility bills.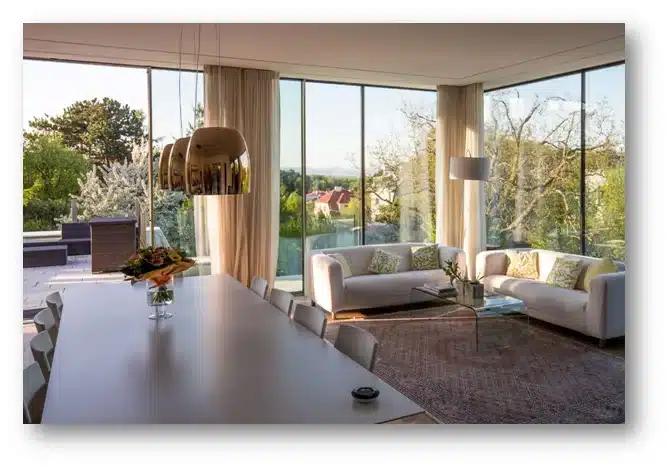 Sliding glass doors
When you are incorporating the element of glass into your conventional doorways, you ensure that to make them fabulous enough for a grand entrance. The glass sliding doorways have been around for quite a few decades, but recently they are winning hearts because of their contemporary aesthetics. If you are planning a contemporary home, you must make sure to have a glass sliding door in your entryway or your balcony to let all the sunlight and natural air in!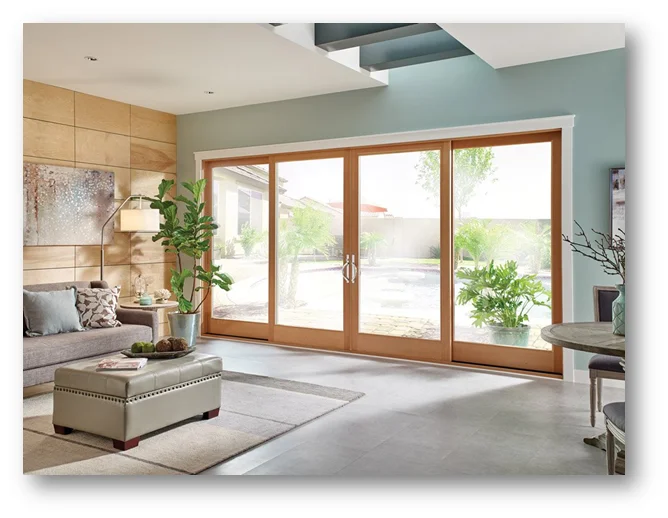 Timber and glass doors
The alternating glass strips and timber planks are a treat for homeowners to get the element of both privacy and light. Timber and glass doors are quite an interesting concept that renders an airy touch to the conventionally heavy wooden doors. As these contemporary door designs are perfect for almost all sorts of themes, they can be practically paired anywhere you want while bringing in more light to an entrance.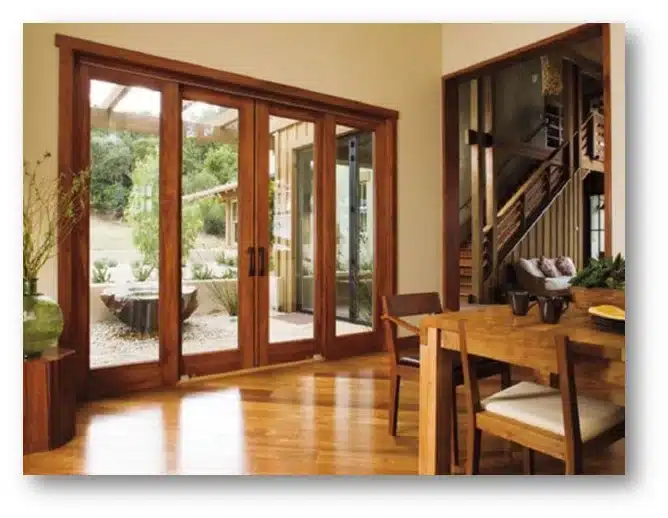 Sleek white wooden doors
Have you always been a fan of striking yet simple designs with a bold background? Then white wooden doors are your dream door. Their arresting and versatile nature sets them apart from the previous door designed that we mentioned above and the best part is that they can go well with both neutral as well as bold backgrounds. You can add a bold shade of blue as in the picture, some quirky paintings on the adjacent wall, and throw in a fancy doorknob to recreate the doors from the sets of your favourite sitcoms that used to give you serious designer goals.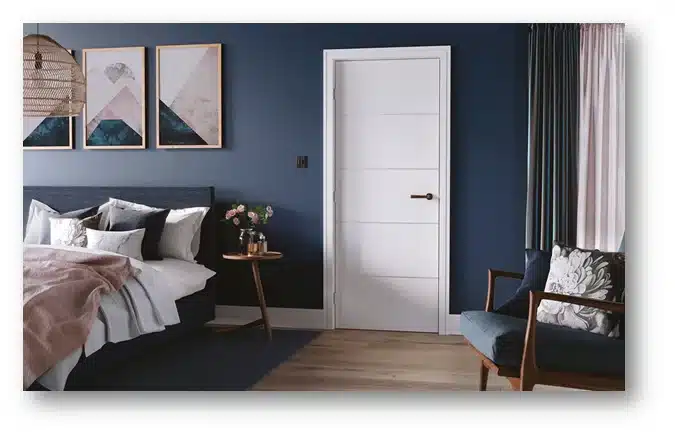 The simple aesthetic blue doors
Everyone likes a pop of colour in their entryways. Irrespective of what design you are choosing shades are also a significant part of designing and having a blue door can provide a more tranquil, calming experience while eliciting an elegant feel for your overall aesthetics. So you can experiment with different doors to unleash your creativity and mix and match the designs and colours. Don't forget to mix and match your door with different designs and colour themes to satisfy your creative palette.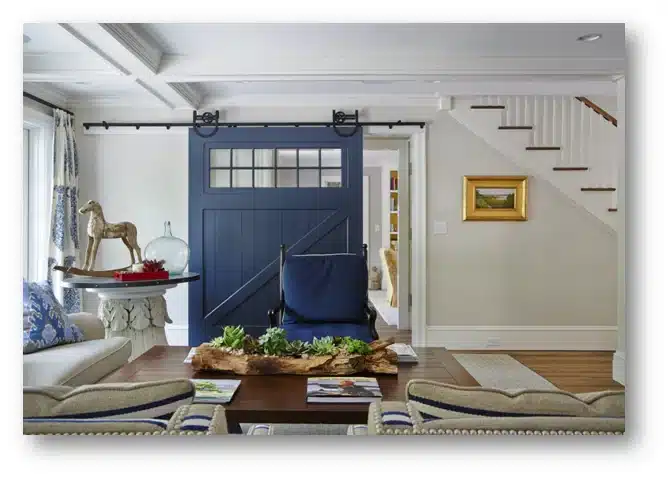 Barn style doors
The barn-style doors are recently stealing the show limelight in the world of interior designing because of their industrial vintage look. They look stunning with Scandinavian, Bohemian, and minimal themes and their rustic yet modern worn-out look adds dimension and layers to the design that you want to execute. The best part is they are also durable enough to be sturdy for generations, so you don't have to worry about the repair or maintenance costs.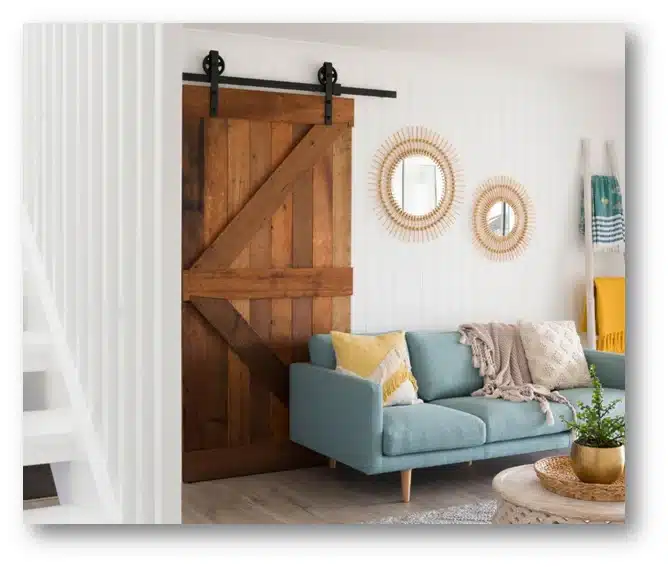 Conclusion
Gone are the days when DIY was the way to go for interior designing because now with the inception of the dynamic designer norms, everyone wants a home that looks stunning and is up-to-date according to the latest design standards. Choose your preferred contemporary door out of the 7 best contemporary door designs mentioned above. Make your doors the personification of your taste that keeps up with the latest trends in the decor world!