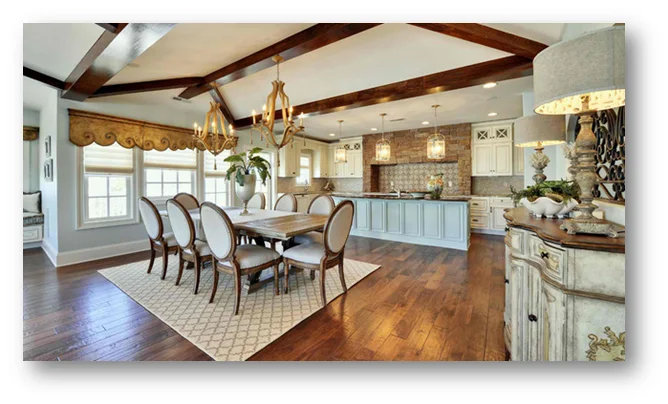 Top 10 Interior Design Ideas for the Dining Room of Your Home
Dining rooms are spaces where you honor the cuisines on your plate. It's a key area inside your home where you spend time with your friends & family, host dinner parties, and make conversations linger. A dining room is a space where you dress up your food on the plate to make it look special. It's the commemoration of your taste palette and your personified taste in decor on a table.
No matter what interior style you prefer, ranging from timeless elegance and calmer color palettes to saturated hues and bold wallpapers, the top home interior designers in Delhi have curated some fantastic interior design ideas for your dining room.
List of top 10 selected interior design ideas for your dining room:
What can be better than flaunting your favorite piece of art while your guests come to dine in? Art is the soul for food and while you are designing your dining room make sure to integrate a painting that contrasts the surroundings with its beautiful accents.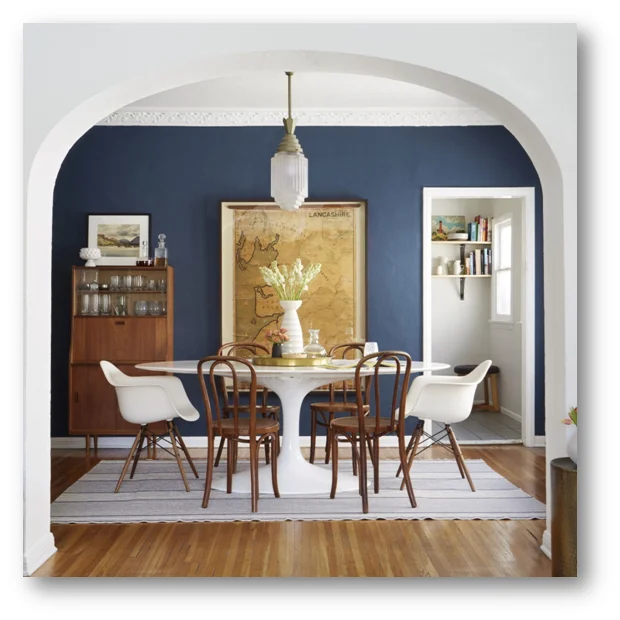 When you want to save space or create something eccentric yet beautiful, then the dining space with a built-in setting is your exemplary inspiration. If you have a dining room with hardwood flooring, then make sure to keep the upholstery of your furniture a bit lighter. Balance the tones and make sure that there's abundant light available so that the dining room doesn't look cramped up.
Get all the natural light that you can
Sustainability is the future of interior decor and if you want your dining rooms to be more energy efficient then adding large window panels can be of great help. They can save you the money that you would have otherwise spent on light bulbs. Plus, you can create additional seating areas with soft tones as well as it is in the image.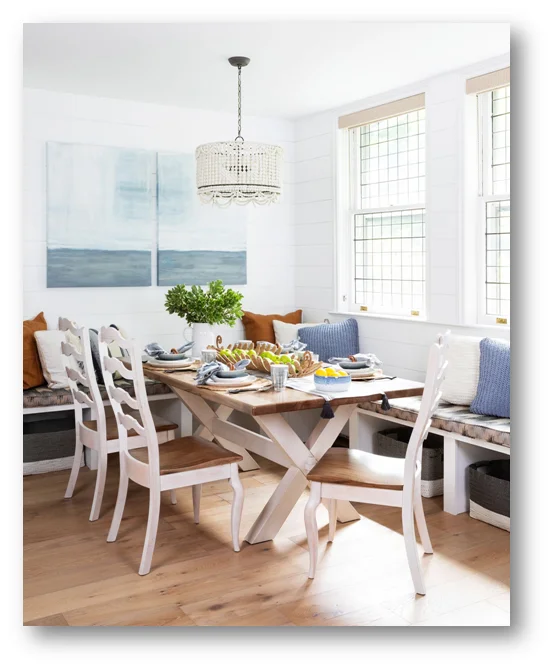 Greenery for adding freshness
At a time when everyone is craving a piece of nature inside their home, you can experience hosting mother nature inside your home. Yes, you heard that right! You can add some green centerpieces and a few other house plants with your all-white walls to create an airy ambiance.
If you are a fan of cozy spaces with abstract designs and soothing hues, then dining by a fireplace is the way to go for you. Take inspiration from the picture and create contrast and depth with your creativity. Plus, if you have any art pieces, then make sure to hang them by the fireplace to bring in a more posh effect to your space.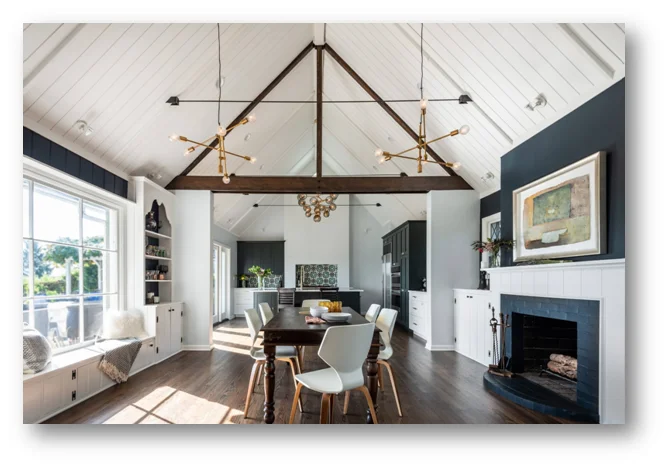 Pendant lights are stealing the dining limelight
Pendant lights in dining rooms are like the answer to all the Nordic dreams that you have been seeing till now. With a futuristic appeal and aesthetically pleasing luminance, pendant lights are the perfect addition to make your dining space functionally as well as visually stunning!
Vintage items to accentuate the class
The best part about Vintage dining rooms is that they boast a historical, lived-in character. When you are designing an adorned, classic vintage dining room, you get to experiment with ideas. You can keep the interior neat as in the picture or you can bring in a rustic vibe by playing with different elements altogether.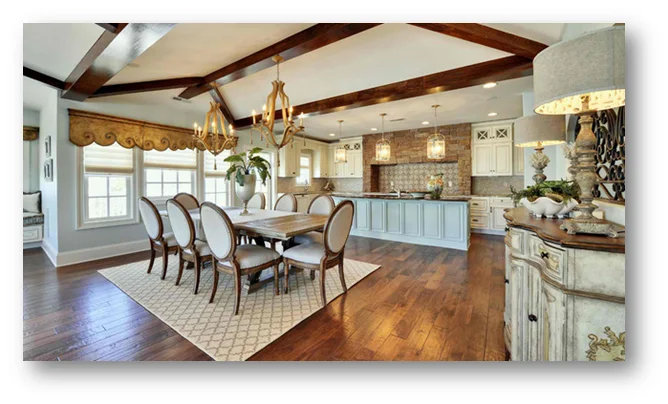 Mirror to make the dining space look bigger
You can amplify the decor of your room with mirrored walls and then add texture with some pastel hues and an oversized painting as in the picture. If you want you can layer the surroundings as well by using a variety of wall art and some Bohemian accents, but if you are planning to play safe then the dining room below can be the perfect inspiration for you.
When you are trying to craft a masterpiece out of your designing endeavors, then the best way to do so is to complement soft colors with bright shades. You can take inspiration from the picture where the neutral tones surroundings are perfectly balanced with a regal-looking purple carpet and some greens on the table.
Just like making the food on your plate is all about the details, designing a dining room is no exception. To make your dining room the perfect blend of details and refined taste, add ornately designed leaf wallpaper as in the picture. Throw in a beautiful rug and a jazzy chandelier and a pastel centerpiece to hold the overall look together.
It was never so much fun designing a dining room like it with these professional interior design ideas for the dining room. Pick the best themes and hues that you like and design a dining room that speaks volumes about your personified taste in interior designs.