5 Best Possible Ways to Make Gorgeous Walls Using Stacked Stone
When they say that "a man's home is his castle" they say it right! We all adore the scintillating, timeless castles that are adorned with stones. Stone walls are firmly back in fashion. Most of the top home interior designers in Delhi are integrating ornate stone walls in the overall home designs because they are subtle splash for all themes. When the painted accents are replaced with dated stone walls then they create an eccentric effect that commemorates the joy of old-world vogue. Having said that, let's scroll through some snazzy stacked stone wall ideas to find inspiration for your next renovation project!
# Stacked stonewall for bedroom
Bedrooms are places when you can get all the cozy vibes that you can. They are the places to cherish memories. What can be a better way to look back at the memories, than having accent-stacked stone walls that remind you of the old times. Have a look at the image below; you will see how the ambiance looks all glammed up with a touch of the whimsy of the chandelier and the comfort of the sheepskin rug. You can do the same with your home, or think of something more creative as per your preferences.

# Stonewall for a sophisticated outdoor entertainment area
Most people have an elegantly designed outdoor entertainment area with some eccentric seating arrangements that make their taste pop out in their decor. You can follow the designer as in the picture and add a fireplace as well as some floral arrangement to accentuate the beauty of your space. Make sure to use pastel shades so that you can create a subtle blow among the powerful stones.

# A stone wall for a unique living room
Living rooms are spaces where you host your guests and where you spend most of the time of your day. Starting from the entertainment unit to the conversations over different topics, a lot of memories linger on the walls of your living room. Then why not spice up the wall? You can adorn the walls of your living room with a stunning stone wall to create a powerful impact. It will look spectacular and nothing matches the level of a vintage stone wall standing upright in your hallway.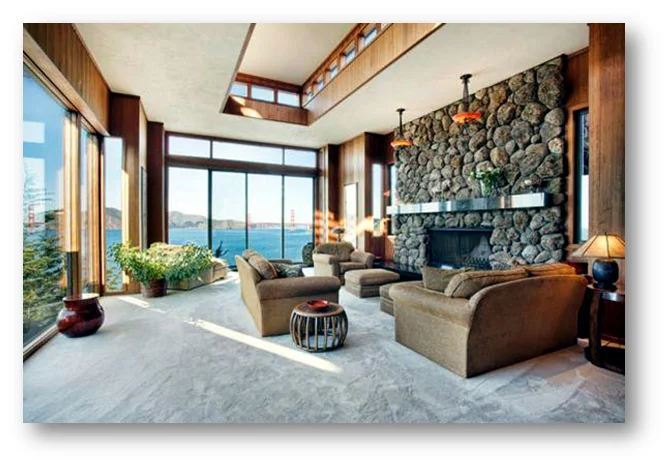 # A stone wall in your bathroom
Won't it feel amazing to connect the inside of your bathroom to the outdoor space? Won't it feel bewitching to take a bath in a bathroom that looks like the manifestation of all the natural elements? If so, then having a stone wall in the bathroom can be the solution for your aesthetic side. Make sure to use it as a background for your bathtub to bring the spa aura into your ambiance. Light some candles bring some flowers and you will be all set to have the bubble bath of your lifetime.

# A stone wall in your balcony
Your balcony is the connecting space for you and the outdoor world. A lot of people spend most of their time relaxing on their balcony after a hectic day, and making your balcony beautiful with an ornately carved stone wall can be just the right amount of motivation that you need after a hectic day. Bring home some floral arrangements, some greens, a comfy seating arrangement, and complete the look with a hardwood floor and a stone wall of course. You will see your balcony being converted into the favourite corner of your home.

The bottom line
Imagine having an adorned stone wall as an accent for your fireplace. You can have a quirky stone wall to be the star of your bedroom or your living room and it will simply entice the guests without any second question. However, stone walls can be a bit tricky to work with. You can take inspiration from the above-listed ideas, or you can reach out to the best interior designers in Delhi. Get a stone wall for your space and see how the overall look will work like a charm for you.