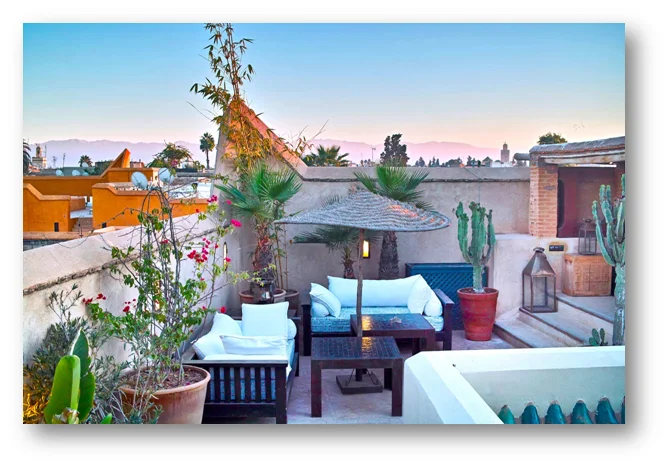 5 Best Decorating Tips for a Small Adorable Terrace
As the weather becomes pleasant, the terrace becomes the home where you wish to live in. Imagine the mighty sky as your roof, the twinkling stars as your night light, think about finding shapes amidst the floating clouds and joining stars to form constellations while you gaze upon the greenery beneath. Yes, that's what a well-designed and beautifully decorated terrace feels like.
If you have a small terrace then it can become the cozy nook of your home where you can enjoy the sunrise and sunsets. All you need to do is to create a comfy yet sustainable design that can add style and beauty to your small terrace. To make your work easier, here are the 5 best decorating tips for a small terrace from the best home interior designers in Delhi that you can consider!
#1 Choose the right furniture
When you are decorating a small terrace, the first thing that you need to consider is finding proper trendy outdoor furniture. The right terrace or outdoor furniture is the perfect blend of space-saving, stylish, multifunctional, and of course possible. Buy smaller scale units and singular big seating space.
If possible find furniture that allows you the liberty of having additional storage space. Get some ottomans, coffee tables, and built-in benches that have some storage space inside. You can hang some shelving units on the wall for your decorative accessories and essentials. Doing so will make your space look more organized while making your terrace floor look less cluttered. Confused? Take inspiration from the picture below!

#2 Select a proper theme
Most people fail to create an artistic terrace or a comfy and stylish corner in their terrace because in the hoard of mix and match they fail to align to a unanimous theme. Before you start ensure to select a theme. The theme idea doesn't need to be elaborate or intricate. You can start from simple color themes and move towards defining synchrony for the furniture, vases, cushions, etc. Doing so will help you to bind your decor in one thread so that it looks more orchestrated.
The Bohemian theme is in the hype now in terrace decor because of its utility and of course cost-effective nature and so, here's a picture of a Bohemian-themed terrace for reference. You can implement this or add your own imagination and create a whole new theme. The choice is yours!

#3 Pick greens
Having some potted blooms, on your terrace is a great way to appreciate the spirit of nature all around you. For people who love a splash of color around them, flowering plants can always be a great idea. However, you can pick other hanging plants and pots along with some creepers, lucky bamboo, or even bonsai, or some shrubs if you are willing to travel to the extra edge.
In the concrete jungle where our lungs are constantly filled with pollutants from outside, you can also have some air purifying plants such as peace lily and medicinal plants such as aloe vera and the Holy Basil to stay close to nature. It is one of the most essential decorating tips for your small terrace in view of the high rising temperature of nowadays. Make your terrace look splendid with your plants. You can commemorate your love for the greens at the very same time!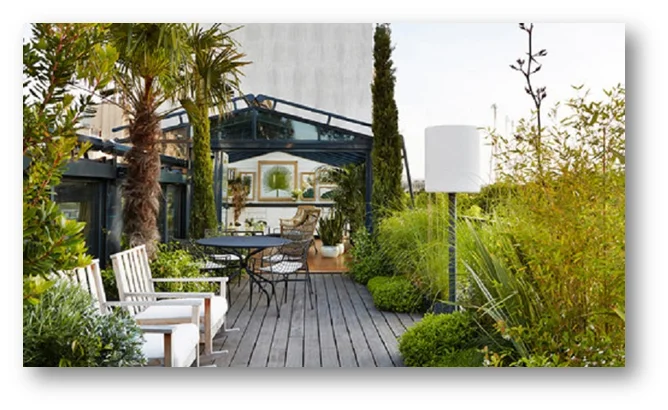 #4 Furnish with suitable accessories
Your terrace also needs a bit of pampering with furnishings. If you are going to spend a lot of time on your terrace then make sure to add some comfortable cushions for making your seating arrangement comfortable. If you want to add some extra drama then you can also add an umbrella and a lantern as it is there in the image.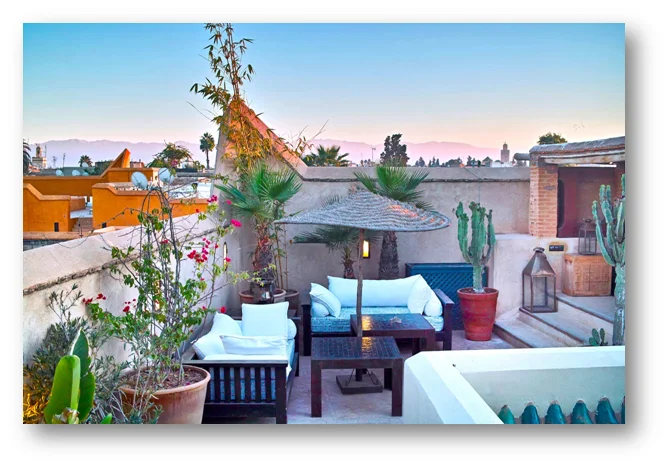 #5 Incorporate beautiful lightings items
You cannot forget the lighting while you are designing your terrace. Most people use fairy lights, lanterns, or a chain of bulbs and most of these are inexpensive items to add a magical charm. You can have your guitar out there, place a grill or a charcoal fire pit and you will be all set for the perfect date. You can roast marshmallows there and have some outdoor barbecue sessions with your family or loved one on the terrace while you dine out under the stars.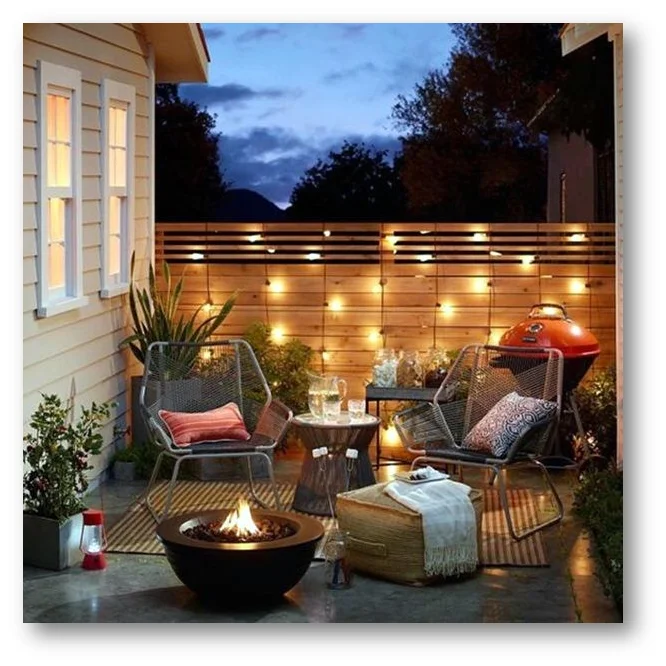 Summing Up
While the moon and sun can be your personal chandeliers on your terrace, you can rejoice in the tranquility that you miss inside the four walls of your home. Follow these decorating tips for your small terrace. Bring the best sustainable outdoor furniture for home decoration to your terrace and breathe in the fresh air. So, start decorating right away!
Suggested reading - What are some minimalist patio decorating ideas for your apartment?