Interior Design & Decor Ideas that Can Rule the Interior Throne in the Near Future
Vibrant interior decor trends are taking centre stage in 2021. The designs that were previously considered functional are outmoded now. Most of the top interior designers in Delhi are curating breathtaking design ideas that are ubiquitous and stunning at best. Instagram-worthy spaces and the spaces in Pinterest galleries are all about aesthetics, but if you want to be the next trendsetter in the interior decor world, thinking beyond aesthetics should be your prime concern.
Are you looking for a fresh revamp for your modern space? Then here are some design & decor inspirations for you. Dive in and tap into the biggest upcoming interior design and decor ideas to reinvent your home for the future.
Less Eurocentric, more chic Bohemian, Scandinavian and Indian
Can we all take a moment to agree on how chic and classy European-style schemes look? They are classy, versatile, elegant, and full of details. But, Eurocentric designs are very common now. There is a thin line between being in the trend and following the sheep herd. Think out of the box and sprinkle some versatility in your monotonous Eurocentric spaces. Include bold hues with Bohemian, Scandinavian, and traditional Indian accents. Pair a few intricately designed furniture pieces to create a harmonious style and create something timeless and refined.
Aesthetics will be all about functionality
Most homeowners round-up with design trends that look absolutely stunning. But as the new decor season is around the corner, the decor magazines are tempting the common folks to include functionality in their designs to maximize the use of space. There is a myriad of ways to do so. One can beautifully utilize the space under the stairs, install a mirror in a room to make it look bigger, or use multipurpose furniture. Talking about multipurpose furniture, having a sofa with storage space (as in the picture) can be an excellent idea. It can keep all the mess covered and keep the ambience immaculate.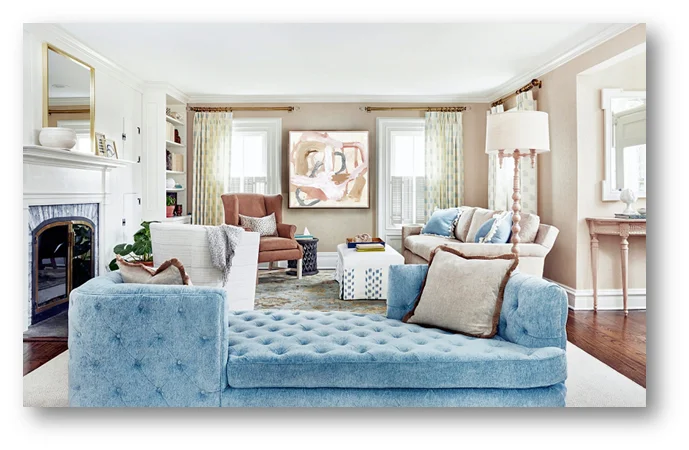 The greener side of the interior design lens
Due to the events of 2020 when people spent most of their time home, staying closer to nature has become imperative. Designing green spaces is something that started in a very modest and simple way. But with mixed touches and glamour, interior design experts started creating a luxe traditional style with greens. Then came the elegantly adorned pots and planters paired with the right quirks. They started accommodating plants beautifully, and since then greens have been in trend. The best part is you can include plants in all sorts of decor schemes. Starting from rustic vogue shenanigans to the Bohemian affairs and cute peachy designs, greens can go anywhere and everywhere.
Geometric designs will be resurrected again
What exactly is it about geometric designs that are so beguiling? Well, geometric designs have again announced their bold comeback. Top interior designers are planning geometric designs for spaces to add that sleek refined finish to the ambience, and you can do it too.
Minimal will be the new normal
After a decade of all the pomp and show in interior design, the age of minimalism is again about to dawn. Homeowners nowadays don't just style their interiors to tell a story; they style their space to speak volumes about their taste. Minimal backdrops and design schemes reflect the pureness of space in all its glory. Every piece in a minimal home makes a statement either through the fabric choice and silhouette or the chic appeal.
These five future interior design and decor ideas aren't the complete and final ones. You can experiment with your own creativity. Take cues from classic combos and crisp accents in French and Italian Interiors. Curate an amalgamation of beauty, simplicity, and drama through thoughtful planning. We agree it won't be easy, but we can always reach out to the best interior designers. They can guide you through the knick-knacks of designing and suggest tactile twists for your groovy