Italian Decor Ideas for Your Elegant Home in India
Irrespective of whether you prefer a chic metropolitan apartment or a tranquil villa by the countryside, Italian living spaces can exude all kinds of grandeur. The Italian-style homes often draw inspiration from the country's rich culture, warm colour palettes and boasting traditional art. The influence of traditional reflection is eminent in Italian spaces. But don't think that Italy isn't at the forefront of contemporary design. With the perfect sync of classic regional influences and modern accents, Italian homes can become a blend of contemporary and historic.
Despite how effortlessly stunning Italian designs look, mastering the art of Italia for your decor can be quite intimidating. Amalgamating the right textures, colours and elements to achieve that impression of chic and suave can be daunting. However, if you want to pick the best Italian decor ideas for your home in India to look like a true Italian wonderland, then here are some decoration tips from top interior designers. Dive in and get your dose of inspiration to live la dolce vita.
Opulent, intricately designed chandeliers
Lights are the soul of every Italian home. Italian decor is all about the perfect proportion of Simplicity and ostentation. An elegant pendant light or a cluster of eloquent chandeliers can create a masterpiece in your space. They can act like a bright brush that can accentuate the rest of your decor and make it pop out nicely.
In addition to the aesthetic side, white marble floors have tremendous other benefits as well. They can make the messiest spaces look immaculate and they can reflect light nicely. Italian spaces are all about defining clear lines in your interiors and when you choose white marble flooring for your space, you can get a blank canvas that you can experiment on. Pair a patterned, abstract rug as in the picture, some posh furniture, and your space will look marvellous at best.
Walls that ingrain a coastal vibe
Remember when you returned homes from your vacation and missed that tranquillity? Coastal Blue is a soothing shade that contrasts all the light colours in your space. Especially when you have a white ceiling or when you want a background for your favourite white couch, painting your walls blue can be an exquisite way to jazz up the space.
All things Italian are sassy. Believe it or not but unless you pair a noteworthy sculptor in your Italian styled living room with some phenomenal art pieces, your decor is incomplete. White sculptors look more striking than usual so ensure to pick something white. Take inspiration from the sculptor as in the picture or use your own creativity to experiment with your space.
A ritzy marble fireplace can evoke awe in the eyes of the beholder. They can be one of those statement pieces of your home that feel cosy, look regal and impart an Italian vibe into the surroundings. Get an Italian marble fireplace with intricately carved details or opt for something sleek and elegant as the bold, black fireplace in the picture.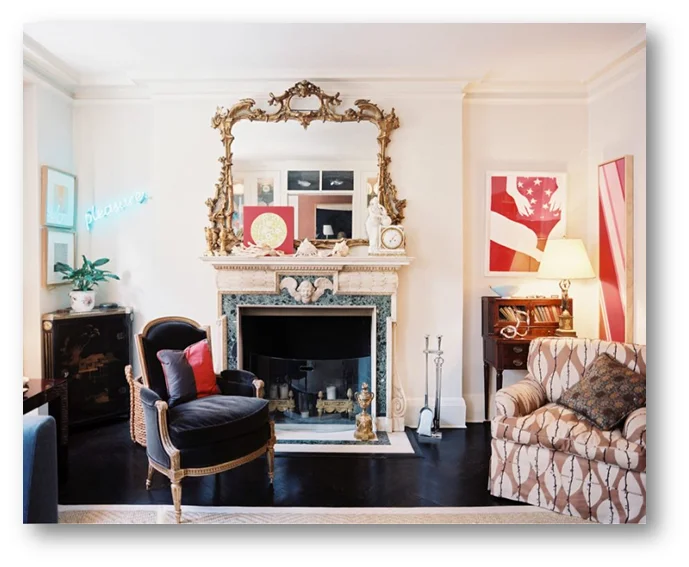 Italian-style home decor is in the trend now because it is ornate, gorgeously gilded, elegant and the true essence of luxury. For many popular interior designers in South Delhi, Italian is synonymous with beauty and panache. Italian-style homes look like a symphony of patterns, textures and opulence that mix in just the right proportion. With a subtle stroke of romanticism and a careful balance of design schemes, your interior can become quite the Bella. Just ensure to pick and implement the best suitable Italian decor ideas for your home that bring in the wow factor, so your ambience can sing the ballad of Italy in all its glory.