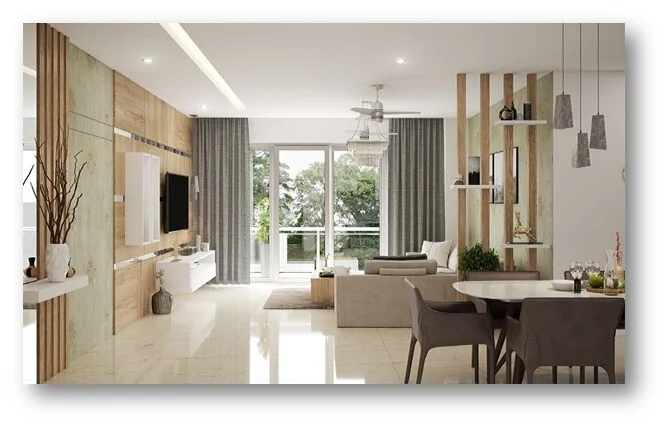 Must Considerable Facts for Choosing the Right Floor Option for Your Home
You can decorate the walls, ceilings, and everything you see at eye level. But, what about what is underfoot? Yes, your floor. As your floor takes up the most space in any space, it has a significant impact on the aesthetics of your space. Most of the top interior designers in South Delhi say that the flooring is responsible for setting the tone of the space and it affects the first impression of a visitor subconsciously when they visit your space.
From soft grey to walnut brown, from vitrified tiles to granite, there are a lot of options to pick from. However, the general debate is between vitrified tiles and granite. Are you wondering how you can choose the right flooring for your home? Given below are 5 things you must consider to make an important decision about the correct flooring:

1.  Selecting the right type: Vitrified Vs Granite

For one, if you are stuck in the never-ending tussle between vitrified and granite, you need to understand what these tiles are. Vitrified tiles are ceramic, non-porous tiles which makes them easy to clean. Vitrified tiles are by far the most pragmatic flooring options because they look appealing and are easy to maintain. Their durability and easy maintenance also make them a brilliant option for outdoor flooring.

On the other hand, granite tiles are popular because of their rustic edge. Unlike the vitrified tiles that can give your home a sleek and defined finish, granite flooring has more of an edgy and rustic appeal. The vitrified tile is manmade, but granite is typically made from naturally formed rocks. So, it deciphers a combination of colours, depending on the types of minerals that led to its formation.

2. The aesthetic point of view

As vitrified tiles are artificially made, they showcase the look and feel of homogeneity. It has a uniform texture and pattern. Whereas, as granite is formed in nature it displays gradations and colour variations. If you want something on the contemporary side, vitrified tiles are your choice, but for a rustic appeal, granite tiles can serve the purpose. In addition, vitrified tiles are also naturally water-resistant, but granite needs an extra layer of sealant to safeguard it from water. But, most homeowners prefer granite because of its pigmented finish and rich colours.

3. Cost Considerations

Vitrified tiles are relatively less expensive than granite. Granite falls on the expensive side because it is a natural stone and it is harder to find a genuine source. Also, the cost of installation for granite is also hefty. So, opt for granite flooring only when you are ready to spend a few extra bucks.

4. Durability

Vitrified tiles are strong and water-resistant; they are water, frost and spill-resistant as well. So, they are perfect for the kitchen, outdoors and other places that involve water or moisture. But vitrified tiles can need extra care if you want to prevent flaking. Granite on the other hand is resistant to stains, water, acids, heat and more, but only when it is sealed. But granite has a timeless quality and it can sustain heavy use. So, pick granite if you prefer durability and aesthetics over everything.


The bottom line


Believe it or not, your flooring can easily make or break your space. Undoubtedly the first interaction with every abode is visual for most people, but the first physical contact point is the flooring. Ensure to consult the best home interior designers because your flooring serves as a foundation for your interior design and decoration. They can suggest to you the best-in-class flooring alternatives of transcendent quality.