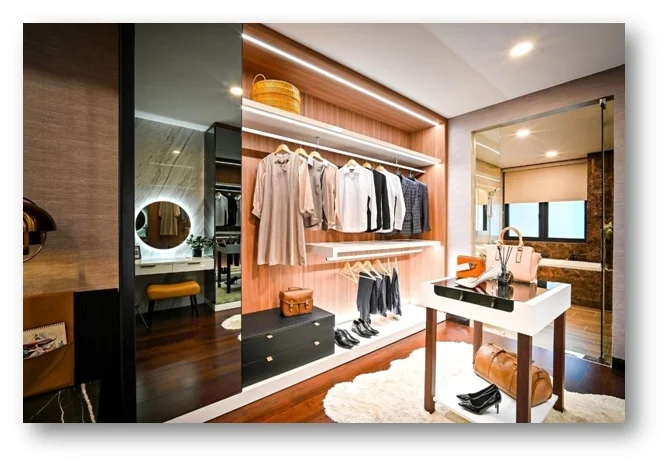 7 Awesome Walk-In Closet Ideas for Your Small Room
Do you absolutely adore celebrity wardrobes that are larger than life? Inspired by Carrie Brashaw's walk-in closet design and decor ideas closet that looked no less than a dream? Well, if you are feeling inspired to revamp your wardrobe or if you would like to inculcate luxury interior design and decoration into your dull wardrobe design, then a walk-in closet can be a brilliant idea.

But first, what is a walk-in closet?

Walk-in closets are primarily large enough wardrobes that allow one or more people to open the door and walk into the space to access clothing and other items stored inside. While normal closets are meant for just storage purposes, walk-in closets offer distinguished privacy. They are created with the idea to introduce more space so that your area looks bigger and better endowed in terms of floor space.

Where can you fit your walk-in wardrobe?

You can fit your walk-in closets in a bewildering range of spaces. Ranging from dead spaces like corners that go to waste in a room to vertical space, there's a lot to experiment with. You can also skip the door and create a concrete flip door that's like a secret gateway into your glamour world. Trust us, everyone would go gaga seeing it!

Thought of top interior designer about Walk-in closet design and decoration:

According to Shruti Sodhi, one of the top interior designers based in South Delhi, walk-in closets work best when thoughtful design plans are put into play. Want to steal some space-savvy strategies, repurposed furnishings, and organizational systems to create a walk-in closet at full capacity? Well, given below are some of the best interior design and decoration ideas for the walk-in closet ideas for your small room.

Moving on to clever walk-in closet design & decor ideas

1.Repurpose Old Furniture

This is one of the most flattering walk-in closet ideas that any decor enthusiast can embrace. You can accommodate your apparel and accessory collection with your favorite dressing area in a cozy setting. You can create an inspiring place with certain tones, a chair, and a painted island cobbled up with multiple shelves and cabinets to complement your style statement.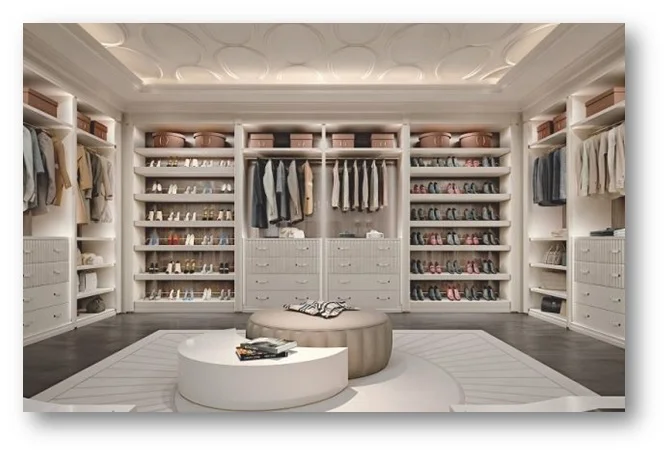 French doors for the rescue
If you are working with limited space, and there is not enough room for doors, you can always design a 360-degree rotating closet system with plenty of drawers. The French doors date back to the 1800s, but recently they have made a major comeback in the modern space and are quite in the hype.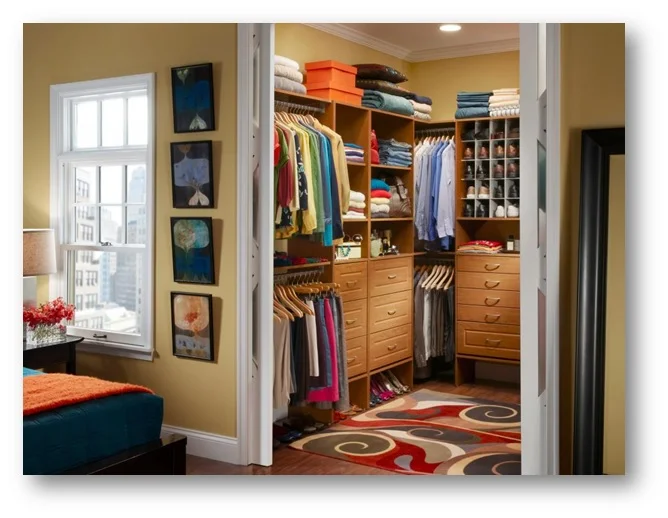 Set up your vanity
Who doesn't love a dab of glam in their closet? Whether you are just any ordinary girl or a trendy bee, having a small vanity in your closet with pretty containers to store your jewellery and makeup can be a brilliant way to get some privacy and feel regal. Your walk-in closet can be a space where you can get dolled up without anyone judging you.
Lights, camera, action!
Do you love the celebrity mirrors with lights all around the edges? Well, now, you can be a showstopper too. Get some ambient, warm lighting and photo-perfect lighting for your dresser. Make sure the light is focused at all the right places, instead of dazzling the entire closet with unnecessary brightness.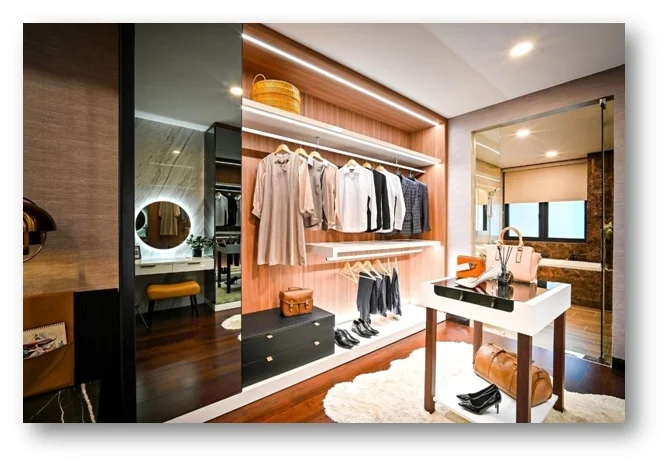 Experiment with the unexpected
Have you seen masterpieces like Gossip Girl and Emily in Paris? The artists there use colors that exude subtle vibrancy and beauty. You can also do that with some fresh hues. Ranging from reminiscent bubblegum hues to mint colors, you can play with something that no one will ever expect.
Make it modern, but timeless
To make your walk-in closet a modern marvel you can include some location-specific motifs. Install glass enclosures with metal frames for splashy storage, or use wall hooks/mounted antlers for a Texas-inspired décor that speaks about any local style. Create a unique color story with floating shelves and clean and fresh marble countertops that speak volumes about your minimal soul.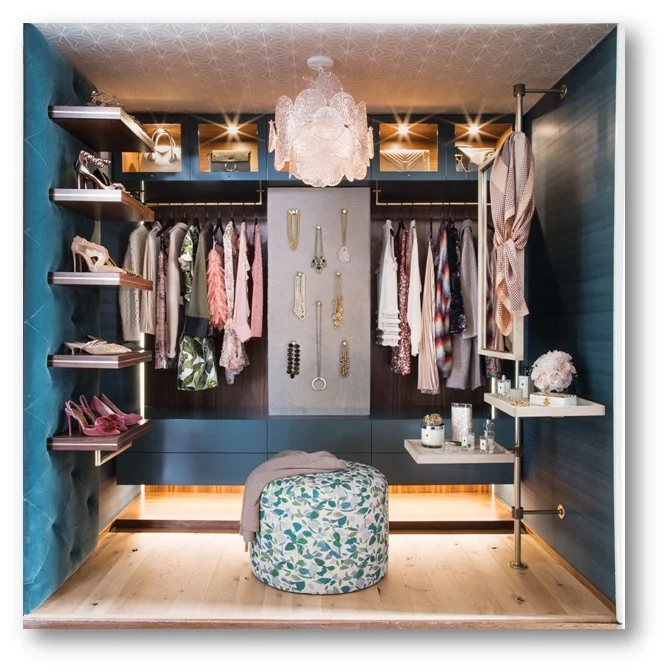 Warm Up the Closet with carpeting
You can opt for a soothing slate grey paint and a contrasting sheepskin carpet because hardwood floors can be a rude awakening on cold mornings. You get your privacy in the closet, but with the carpet, you can reduce noise and create a cozy space that everyone finds irresistible.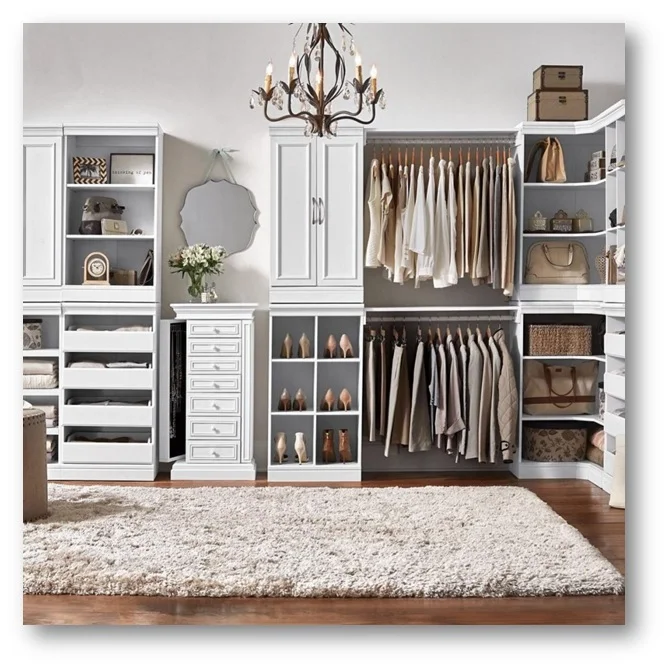 Conclusion

Walk-in closets are one of the most incredible décor statements that no fashion aficionado can deny. If you have the space and budget to create a walk-in closet in your bedroom, ensure to consult any of the highly experienced and most popular experienced interior designers nearby you for a professional opinion on things. They know the thumb rule of planning, design, and what is on top of the trends.