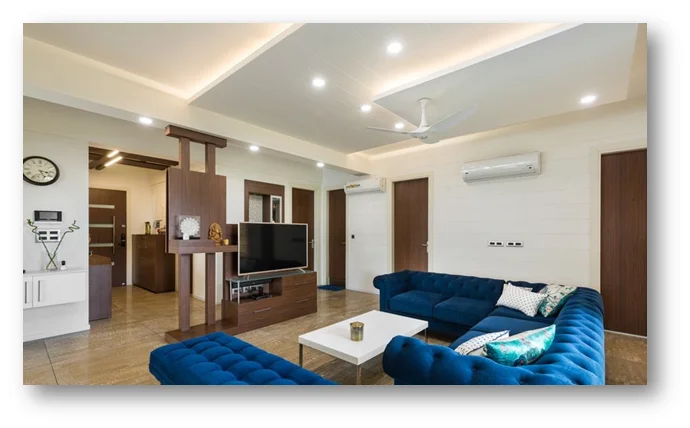 Enticing False Ceiling Design & Decor Ideas for Smart Homes in 2021
Everyone loves to have a scintillating home with the most stunning interiors. However, creating a remarkably spectacular home isn't any one-step procedure. It involves a series of steps and ideas that include a multitude of ways for beautifying your space. One such way is installing a false ceiling or dropped ceiling. For most of the top interior designers, well-designed & decorated false ceilings don't just add the element of sheen to the overall aesthetics, they also have other perks.
False ceilings can provide insulation and reduce the noise levels, they can give your room fancy mood lighting or uniform lighting, and they can conceal exposed beams, ugly spots, or wiring on your ceiling. They can be made to be fire and water-proof as well. So are you searching out for some inspiration for the incredible false ceiling design ideas for your space? Then here is some ingenuity for you!
#1 Zig Zag False ceilings for that sophisticated touch
The zig-zag false ceiling idea is for those who want a modern showstopper. If you are ready to invite the drama in all its glory, then the Zig Zag ceilings are your one-stop solution. They disperse light uniformly across your space and add detail to your high ceiling. Besides, they look flattering due to their unique appeal and classy touch. So, the Zig Zag pattern can be your first crush if you decide to fall in love with false ceilings.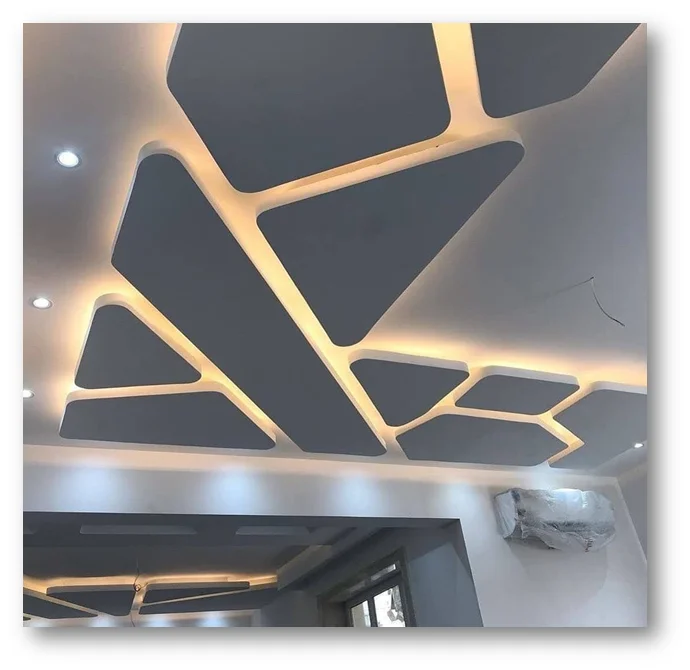 #2 Wooden planks to invite the vintage allure
Are you a fan of the rustic interiors that look modern yet retro at the very same time? Then installing wooden rafters in your false ceiling is the way to go. They add this vintage charm with an element of whimsy to instantly escalate the feel of your space.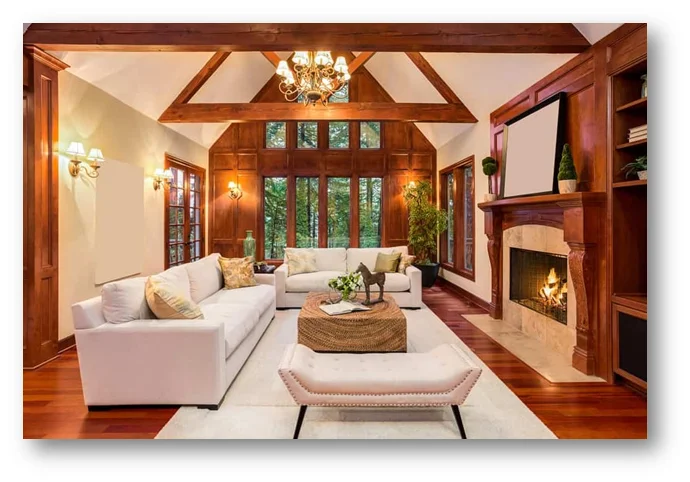 #3 The inverted cove and its modifications
The inverted cove is one of the most popular designs that is stealing the show limelight of the designing tinsel town. It looks chic, it is functional at best, and it is versatile. You can get an inverted cove with recessive lighting (as in the pic below), a painted inverted cover, or something more like a groovy cove. Everything will look incredible as long as you integrate the elements in the right contrast and balance. Also, make sure to use uniform lighting in a warm shade that can be soothing to your eyes.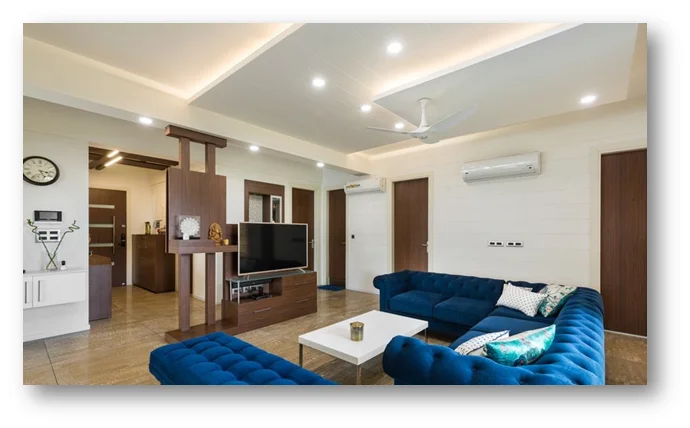 Another brilliant false ceiling design is the Honeycomb design. It can make a room look edgy and grand. The false ceiling honeycomb design can work well in living rooms, open plan areas as well as in dining spaces. However, make sure that you use opulent lighting to make the design pop out from the rest of your roof design.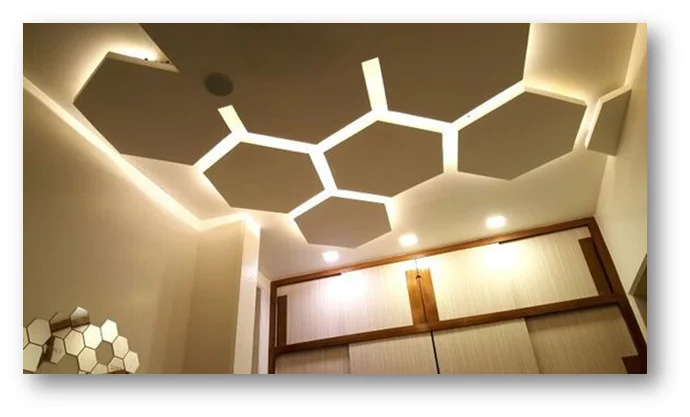 #5 Adorable false ceiling ideas for kid's rooms
If you want to include a whimsically stunning false ceiling design in your kid's room or nursery, then the cloud design is a perfect match for you. Pair the clouds as in the picture, or use scattered clouds depending on the dimensions of your false ceiling. Make sure not to create a crowded roof with a lot of different clouds, and always add ambient lighting to accentuate the overall décor of the space.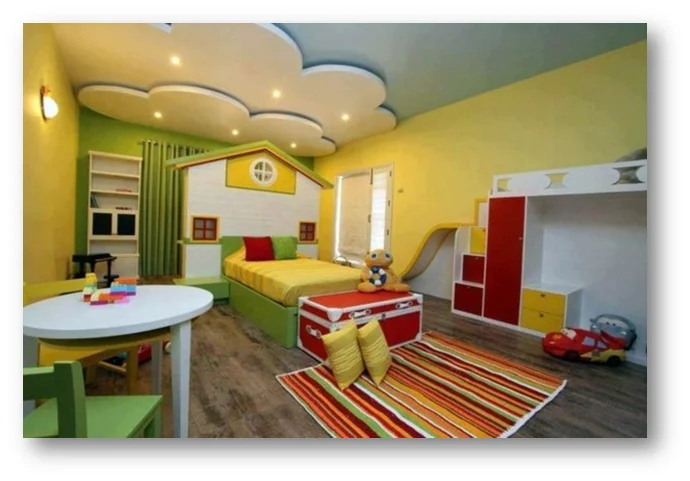 #6 Metallic outlines to bring back the bling
Reflective metallic surfaces added on your false ceiling can add glamour to your aesthetics. These surfaces can serve as the delimitating borders between your plain white ceiling, and the rest of your interiors to give an aesthetically pleasing touch to the overall décor.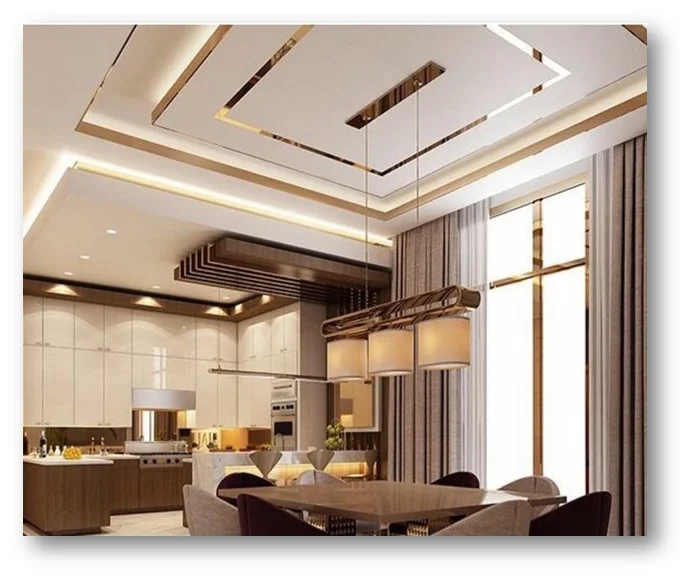 #7 False ceiling ideas that run sideways
This is the simplest yet most effective way to jazz up your boring roofs. With the minimalist design and an elegant vibe, the peripheral false ceilings look no less than a delight while complementing the beauty of your room. The setting is best for a low ceiling room. And with diffused lighting running around the edges as in the picture, they can accentuate the feel of your false ceiling.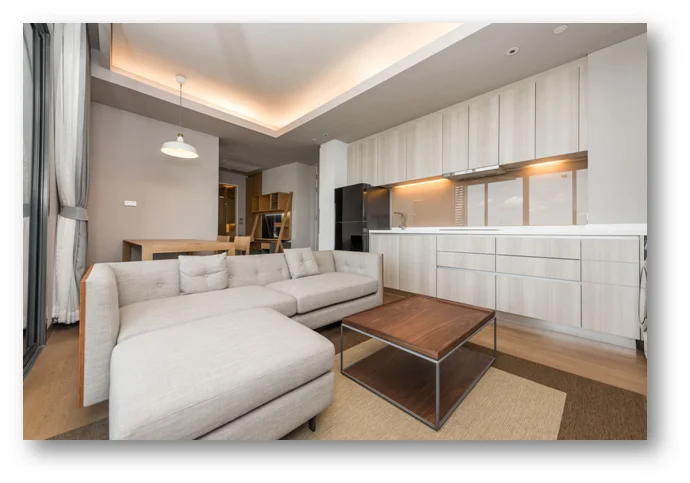 Besides the aforementioned false ceiling design ideas, there is an abundance of creative false ceiling designs to escalate the beauty of your residential establishments. You can experiment with your own by drawing inspiration from our brilliant ideas, or you can seek the expertise of the best interior designers in South Delhi. They will help you to integrate impeccably swanky false ceilings to give an edgy, new look to your space. Find design inspiration that suits your interiors, and you will be able to do wonders with your ambiance.