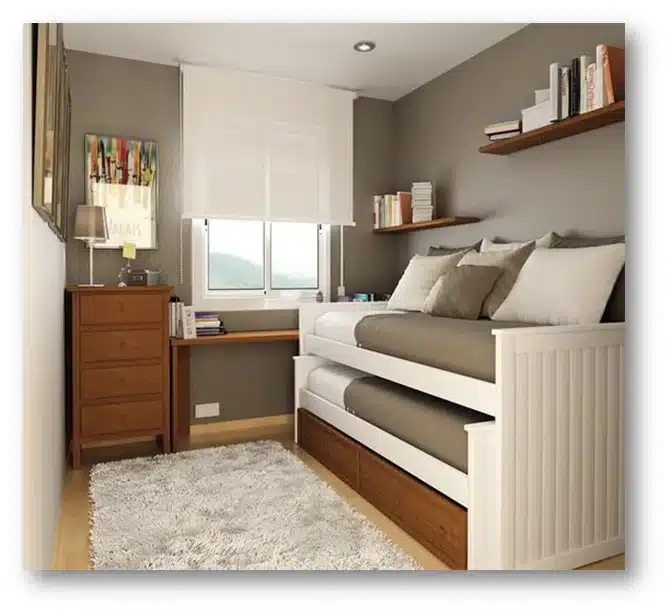 Insanely Clever Home Interior Tips for Saving Space in the Small Bedroom Area
We live in an era of globalization, where people living in cramped space are no new plight. Unless you are a big advocate of doing more with less stuff, you can't have a neat and tidy space with all your belongings adjusted in the right compartments. When it comes to storage, designing, and arranging small bedrooms can be tricky. We have rounded up some of the best small bedroom interior design & decor tips on how to store all of your essentials in your short-on-space sleeping quarters inspired by the work of some of the best interior decorators in Delhi NCR.
Don't pick a king-size bed unless you actually want it
You cannot deny the fact that the bed takes up by far the most room in a small bedroom. Especially if you have an unnecessary double or king-sized bed in a dorm-sized room, storage and space become a nightmare. So, instead of buying a bed to flaunt, make sure that you buy it to serve the purpose and complement the minimalist and dainty bedroom furniture. The one in the picture is a multipurpose convertible bed that serves as one or two bed depending on the purpose.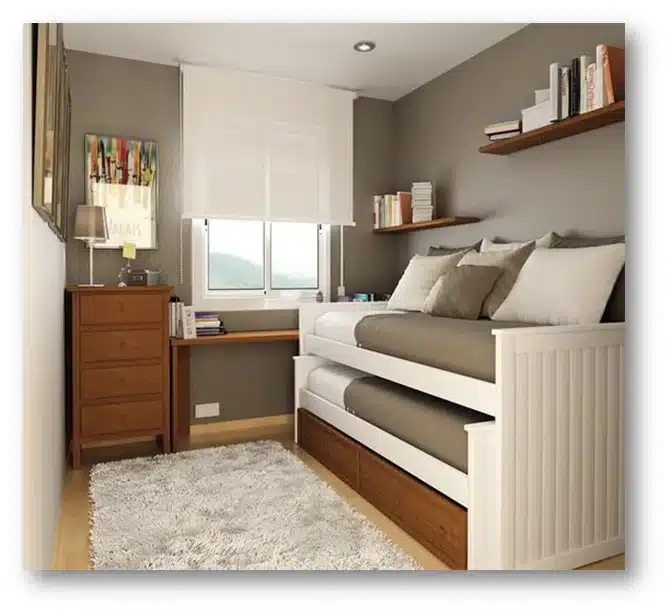 Mirrored wardrobe makes space look bigger
Fewer people know that mirrors can make your space look bigger. If your closet is cramping your entire room, you can install a mirror on the wardrobe doors. Large closets can make the space look pretty clumsy and installing mirrors can make space look bigger while cutting the space for dresses, which is pretty awesome.
A bedside table can make a huge difference
If you are looking for storage ideas for a small bedroom interior that will work spectacularly without breaking the bank, then bedside tables can be a great idea. You can explore the full storage potential of your bedside table to make storage convenient for you. Opt for one having drawers or cabinets as in the picture, so you can store some frequently used bedtime stuff there.
A bed frame with headboard storage can do wonders
The key to successful storage in a small bedroom is never leaving an opportunity for more, and a headboard is no exception to it. A single shelf can be enough to accommodate your bedtime reads and an elegant lamp, as shown in the picture. You can also utilize the chance of having headboards with multiple shelves that can be used as storage for small pieces of clothing. Also, remember that the bed frame with drawers never goes out of fashion, so have fun experimenting with the multipurpose uses of your bed.
A wall-mounted desk to make study table compact
You can free up the floor space if you decide to invest in a floating desk. The one in the picture also folds up, which makes it truly compact. You can use one like it, or install your very own foldable desk in a more fascinating design.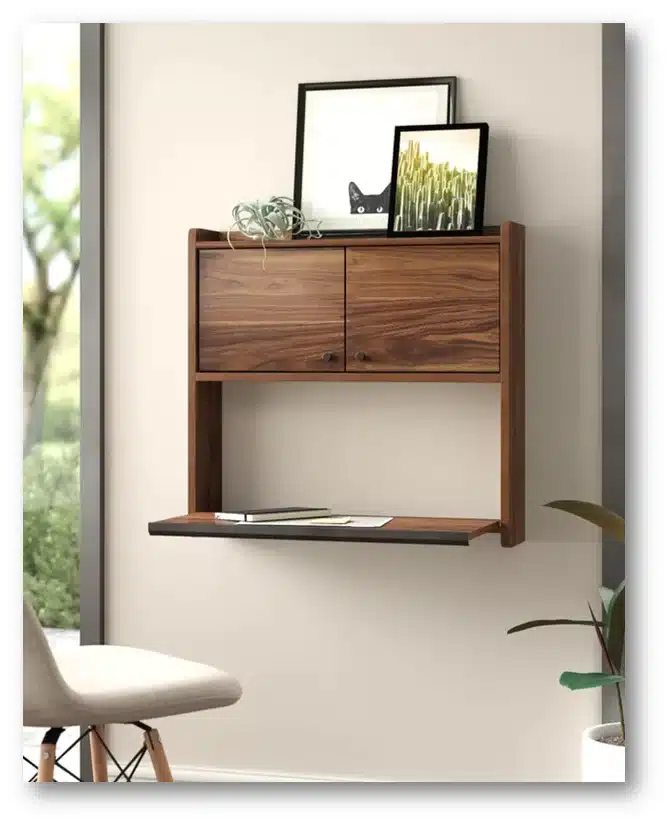 These bedroom storage hacks and solutions are definitely dime a dozen. If you are tight on space, then you can use these smart tips and unleash your bedroom's true storage potential to store more in your small bedroom. With the above-mentioned small bedroom interior design and decoration tips from the best home interior designers in Delhi NCR create a space that is forever clutter-free. With a little bit of creativity and ingenious planning, even the smallest bedrooms can be cosy.